In today's modern world of online everything, shopping for a diamond from the comfort of virtually anywhere is how many soon-to-be engaged choose to shop these days. Selecting a diamond for an engagement ring is one of life's most special and memorable purchases. A traditional retail environment will always be the preferred method of shopping for many, but thanks to modern technology there are new avenues to explore when searching for one of life's most important purchases that provide as much of a sensory and sentimental reward as in store.
The dazzling concierge approach
My process assisting clients virtually when shopping for a diamond or any other piece of fine jewelry is unique alternative to many online avenues. The majority of my virtual consultations are done right in the heart of New York City's historic Diamond District where I have immediate access to some of the finest diamonds and gemstones in the world. An array of sparkling and brilliant options to suit any size and budget are at my fingertips!
I work with exclusive bespoke designers that hand-craft each ring to exacting specifications and specialize in fancy shaped diamonds. The vast majority of jewelry and engagement rings today is machine made and mass produced overseas. To be able to control the details and craftsmanship in New York City from the very start provides my clients with jewelry far superior in all aspects than most at a far better value.
Size vs. Quality: Tailored Diamond Guidance
Decades of experience assisting clients with their engagement rings, now allows me to innately know the right questions to ask to understand each individual's true wants and needs. I make my recommendations and provide options accordingly. For some clients, the diamond size is the most important attribute of the 4 Cs; where others prioritize superior quality, emphasizing color and clarity. An online diamond website shopping experience is far different from the individual consultations I offer my client.
As a diamond concierge, I guide my clients through the diamond buying process by educating through examples and comparisons. Modern technology, video and photography, also often allows a much more in-depth and up close look into the diamond than what many traditional retail environments offer. My services blend the convenience of online shopping with the personal service, care and attention of retail.
Three important tips for buying a diamond engagement ring:
1. Consider your budget
Knowing your budget, and sharing that with an expert you trust, is key to helping you maximize your diamond and engagement ring options. Long gone is the antiquated rule of three months salary as a baseline number. The center diamond is the heart behind the engagement ring and the true investment component. By identifying a range in budget, as a diamond concierge I am able to offer specific options emphasizing beauty for value.
2. Research reputation and credentials
In the world of jewelry there is a wide array of extremes in quality. After all, we live in a world where even Costco offers jewelry! How do you know whom to trust? Researching credentials, reputation and reviewing testimonials is key.
As a third generation GIA Graduate Gemologist, I have decades of experience in diamonds and fine jewelry. I started selling engagement rings at age 16 in my grandmother's jewelry store, and have dedicated my entire career to my trade. In fine jewelry, reputation, trust and integrity are imperative. In 2022, I was recognized for my industry achievements by being awarded one of the Top 20 Under 40 nationwide in the jewelry industry. I am also an active member of the American Gem Society, one of the most prestigious organizations in jewelry.
3. Look beyond the 4 Cs
For many, the engagement ring process starts by researching the 4 Cs before connecting with a jeweler. The overwhelming amount of information available can make it challenging to separate what's important to look for in a diamond. As a diamond concierge, it's my passion and profession to guide my clients through education beyond the grade. Enter the diamond buying process with an idea in mind as to what's important to you, and then be open to expert guidance and recommendations maximizing value for beauty and budget.
The 5th C is certification. The most reputable laboratory in the world for diamonds is GIA, but having a GIA certificate to accompany a diamond doesn't mean it's a superior stone. There are quality swings within each grade, consulting with an expert you trust will guide you through selecting the best and most brilliant options for your dream ring ideas and budget.
---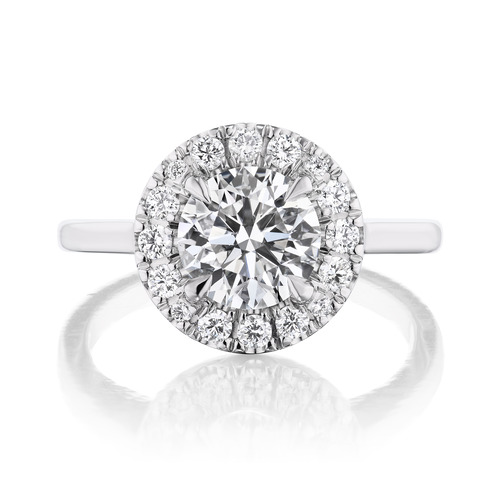 Your Engagement Ring Dream Awaits!
Reach out to me today to embark on a unique diamond-buying adventure that combines the convenience of online shopping with the personalized care and attention you deserve. Let's make your dream engagement ring a reality!